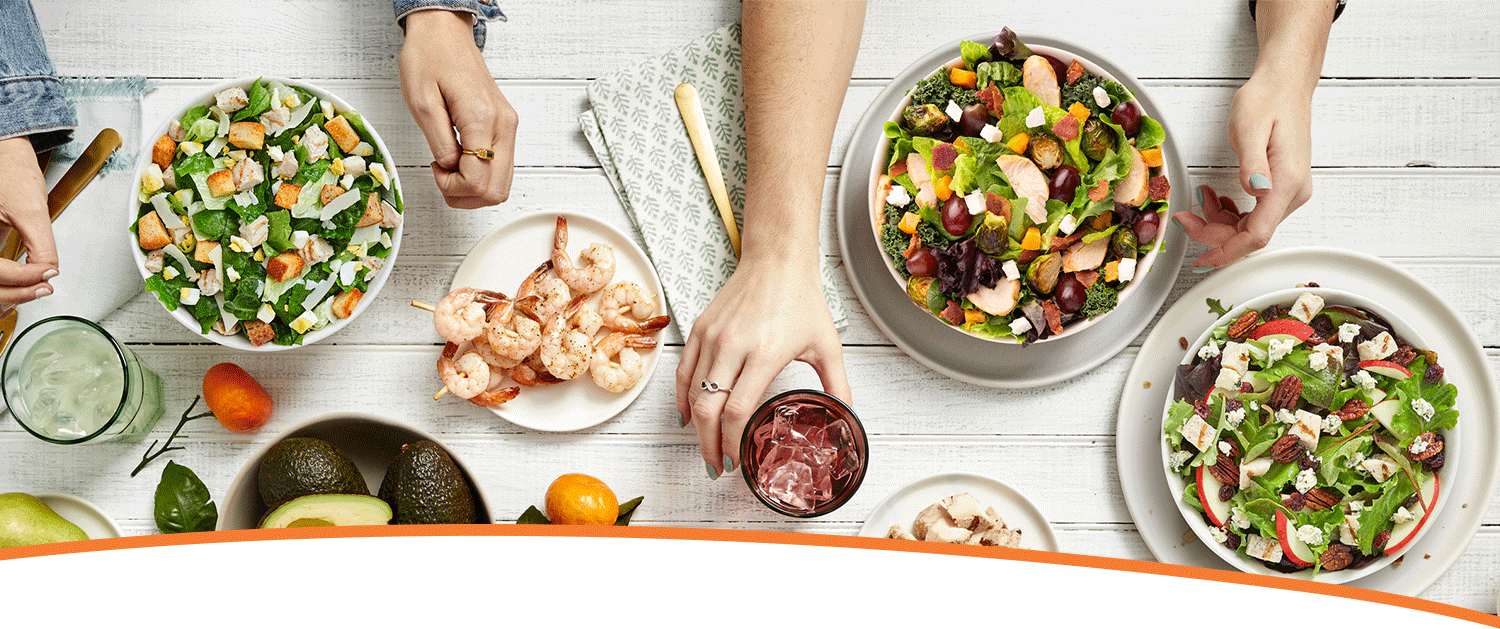 A wow place to dine
WOWorks lets guests customize their meal experience with ingredients that meet their personalized needs and tastes.
Plant Based
Vegan
Vegetarian
Omnivore
More
We know that healthy means something different to everyone, so we provide a variety of fresh and flavorful options.

Our guests can create meals in line with their lifestyle and changing desires — from light and healthy to a bit more indulgent — plus meals for kids or the family.

Everything is made with the freshest ingredients and a whole lot of care.

We also provide nutrition information to support decision making, and our flexible menus allow for avoidance of allergens.
ANIMAL WELFARE STATEMENT
At WOWorks, our goal has always been to make good food more accessible and we are proud to always prepare fresh food daily for our customers. Choosing great ingredients is part of our story too. That is why we are committed to continuously improve the well-being of animals in our supply chain. In this effort, we are working with the American Society for the Prevention of Cruelty to Animals (ASPCA®) to develop and implement our animal welfare policy. **By 2025 or sooner, all of our chicken will be Global Animal Partnership (GAP) certified and will be processed using CAS, which is widely considered as more humane. We are also committed to source all of our turkey and pork from farms that have earned an independent animal welfare certification recognized by the ASPCA® Shop With Your Heart program by 2025 or sooner."
Service Standards
Quality Foods

We have a variety of fresh and flavorful ingredients so you can create a meal that satisfies your changing desires, whether they be healthy or more indulgent.

Customization

All WOW brands have create-your-own opportunities for each guest to customize their meal experience.

Prompt, Sincere Service

Whether you're on-the-go or dining in, our staff is trained to treat you with care all while providing you with a seamless ordering experience.

Comfortable Environment

Dining in?We strive to provide you with a safe & clean environment to enjoy your meal.
"WOW!"-ing our guests requires a comprehensive approach, because every aspect of our operation affects the guest experience.
Fresh Service Program

Fast, Friendly, Fresh Respect Engage & Entice Safe Hospitality

Vows Operational Success Program

Ensures each guest is receiving the freshest product possible in a safe, clean and welcoming environment.

5 Steps of Service

Greet Engage Suggest & Create Up-Serve Leave a LastingImpression

Guest Feedback

While we wish we could be perfect all the time, we know that's not possible. So we go the extra mile to fix our mistakes and show our guests how much we value them.